Creating Interactive Spaces for Higher Education
Have you ever been at university for hours on end, desperately trying to feel inspired enough to complete your assignment? For too long, universities have struggled to create interesting, interactive, comfortable and aesthetically pleasing learning spaces. The boring libraries, labs and classrooms do little to encourage learning – instead, they encourage students to run for the hills!
Spowers Architects were engaged by Melbourne's RMIT University to design a more active style of learning, where students and teachers could interact and collaborate with each other. This style of learning is becoming popular around the world and has even been thought to increase students' academic results. Surface Squared was able to turn RMIT's vision into reality with solutions that not only enabled interactivity within the learning environment, but also added to the aesthetic feel of the campus. 
So how did we help Spowers Architects transform boring blank walls into something exciting? Simple – they were made writable! Using our magnetic and writable surfaces range, RMIT was able to create engaging spaces that make brainstorming, meetings and group assignments fun and practical.
Our engineered plywood SURPLY Raw was also applied through the floors, walls, tabletops and furniture to create an on-trend, yet practical, decorative timber look.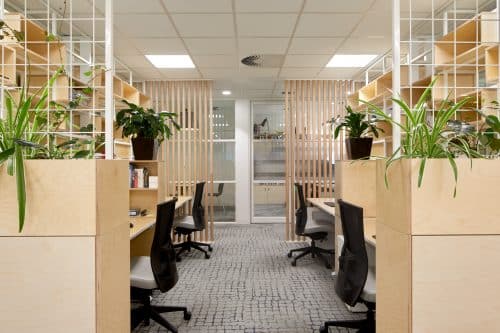 The final result? A striking, fully interactive area at RMIT where students can collaborate with each other, and their teachers. The new design allows easy sharing of ideas and knowledge in a modern and practical environment. This type of interactive space works in all situations where collaboration is required, such as schools and workplaces.
Working on something similar?
Visit our website or call us on 1300 722 113 to discuss your next project.