Transforming school interiors from good to great!
The Australian government investment in our nation's schools will increase by 68% over the next 10 years, as 650,000 new students begin their education journey. Each state has also pledged extra funding to build new schools and upgrade existing ones.
This creates an excellent opportunity for schools to plan, design and create a space that will have a profound impact on the way students learn and teachers teach.

According to 'Good to Great Schools Australia', high quality instruction within the classroom is the keystone to education reform. There is also a wealth of research supporting the notion that pleasant and inspiring surroundings have a direct impact on student outcomes. Hence, educational spaces must be designed to support the teaching and learning practices required by modern schools, both functionally and aesthetically.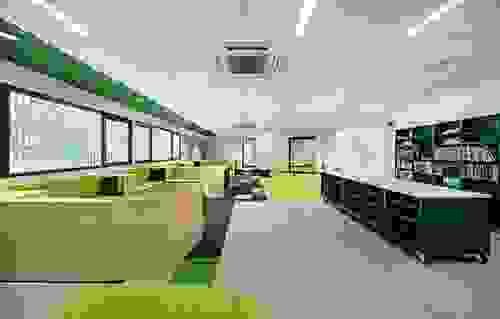 Surface Squared's range of materials are ideal for the school environment and will assist to support and maximise the needs of both teachers and students.

SURPAC is our top recommendation for use for school projects. It can be used to create everything from desks, furniture, shelving, joinery, bag racks, partitioning and lockers. As a self-supporting decorative material, it does not require a substrate or edging, reducing the cost of labour and handling. In classrooms where seating trends now lean towards large desks for group work, our SURPAC provides an alternative to traditional desk materials. SURPAC is extremely durable with a high impact and wear resistance, making it ideal for high traffic areas. It is resistant to moisture and helps to retard bacterial growth extending the life of the product and reducing the need for replacement and maintenance. SURPAC is particularly suitable in the more-challenging science labs and has been tested to withstand the chemicals used in high school classes.
Our High Pressure Laminate from ABET Laminati is our most popular choice for school projects. Offering the largest collection of plain colours on the market, ABET HPL can be pressed on either White Birch Ply or MR MDF with matching ABS edge tape. Manufactured in Italy, its highly durable, easy to clean surface has an exceptional Group 1 fire rating and competitively priced. Our HPL colour range offers an excellent alternative to painted surfaces, extending the life cycle and reducing the need for maintenance in the classroom.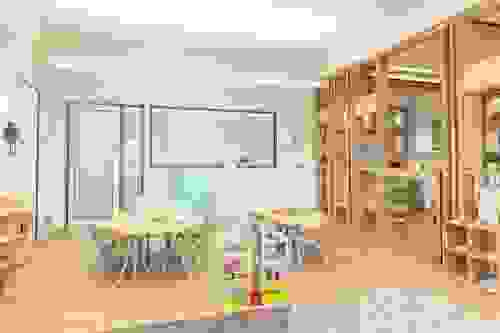 Magnetico and Writable Surfaces can be used by both students and teachers to enable interactivity within the classroom and highly engage students in the learning process. Magnetico is a magnetic writable surface that acts as an easy-to-clean white board, a magnetic surface and a projection screen. It is also available as a traditional black chalkboard. Writable Surfaces are an extension of the Magnetico range and offer more than 20 high gloss colours to suit any classroom theme.
These materials will assist in creating a school that is aesthetically-pleasing, while also supporting the health and wellbeing of students and teachers, and enabling the outcomes required of our modern world.
Contact us to learn more! 
Phone: 1300 722 113 or email: info@surfacesquared.com.au.